In this fourth and final installment of our strategic refresh blog series, initiated by Pisces Foundation President David Beckman's What We're Learning blog, Environmental Education Program Lead, Jason Morris, shares more about the program's plans to connect, strengthen, and amplify environmental and outdoor learning across the United States by investing in movement infrastructure.
---
You might be familiar with the phrase "holding space," meaning setting aside time to come together and focus on an issue or to work through difficult conversations. I like the sense of community this captures, although the term itself is problematic. Logically, we know that no one can literally "hold" space, and yet, by saying we are, we set in motion expectations about who owns spaces and what will transpire there.
In environmental and outdoor learning, I see people and systems "holding" spaces in ways that exclude far too many. I see this in the predominantly white makeup of the field and those we serve. I see this when Black and Brown families are not safe or welcomed in the outdoors. And, I see it in the growing opportunity gaps between those who have access to high-quality environmental learning and those who do not. The fact that open spaces and educational opportunities that should be available and welcoming to all are "held" by too few both indicates and perpetrates vast injustices wherever environmental learning occurs. Undoing this reality, and changing the systems that fuel it, drives my work every day.
I was late to realize the privilege I carry into the spaces I hold and occupy. Growing up on a community-based farm in the foothills outside of Fort Collins, Colorado, and spending every summer at sleepaway camp in the Rocky Mountains, I felt comfortable and alive outside. Working, recreating, and learning outdoors were ordinary parts of my day. I credit those camp experiences among the most influential, formative experiences of my life. I went on to work at the camp from age 15 until my mid-20s and even met my future wife there.
My first post-college job kept me outside most days as an environmental education instructor in Yosemite. Observing the students who came through, I was struck by how almost all of them were white, came from some economic privilege, and had previous outdoor learning experiences. Where were all the other kids whom represented the vast diversity of California? Why was a national park, so seemingly available, so inaccessible to so many?
These experiences sparked a journey that continues to this day.
When the Pisces Foundation selected environmental education as one of the primary areas of focus in 2013, it was one of only a few private foundations that funded this work at a national scale. That was intentional. The Foundation, spurred on by the passionate leadership of co-founder and trustee Randi Fisher, recognized that funding for environmental education often "fell through the cracks." While education funding, on one hand, and environmental funding, on the other, were comparatively robust, this funding base was unfortunately, and ironically, not true of a topic that blended both areas of focus. The Foundation saw supporting environmental education as an opportunity to help solve a challenge: the often overlooked, but myriad, benefits of environmental education were not nearly as available as they could be to kids. It was also true that the experiences that were available were not equitably accessible—something that also needed to be addressed.
Since the program launched, through focused national, regional, and statewide grants, our partners have helped create effective policies that expand environmental learning; enabled more accessible research and evaluation to improve practice; expanded the funding base and partnered with powerful new allies in the movement; built important new resources and training programs that strengthen program design and delivery; and co-generated a powerful shared narrative—Rethink Outside—that makes the case that all children deserve the benefits of environmental and outdoor learning. Through all of this, Pisces has and continues to learn and grow. We remain tremendously grateful for the impact our partners make.
The Foundation's continuing evolution was discussed by my colleagues in their blog posts. Pisces views strategy as emergent and iterative, not fixed and inflexible. We execute small-scale tests of change, regularly translate learning into action, and review our approaches holistically every three years.
This most recent triennial review surfaced three cross-cutting themes—none new but all areas we're committed to furthering—that will inform our programmatic priorities across the Foundation. First, we seek to take a whole systems approach. Second, we embed equity in our core work. Third, we support movements and the infrastructure that makes them durable and powerful.
The Environmental Education Program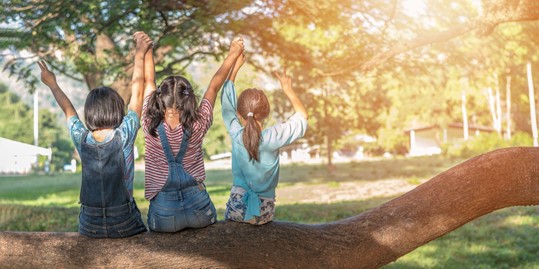 As with the Foundation as a whole, for the Environmental Education Program, we didn't come into any of these approaches on our own. We listened to and learned from leaders in the field, and we availed ourselves of deep research. In the end, our refreshed strategy guides us to invest in the relationships and shared tools that accelerate the good work being done and ensure that all young people have powerful environmental and outdoor learning experiences during their formative years. We will get there by funding backbone organizations, networks, and other initiatives applying collective action to what we call "the movement" – the collective work of creating a more connected, educated, engaged populace.
The program seeks to fund a connected set of work that is being advanced by this varied and diverse movement: advocacy, equity, access to resources, knowledge, shared language, and best practices. All of which can be visualized as intertwined strands of a web. Together, each, and all, will inform the strongest relationships and shared tools. These relationships and tools, in turn, will better support and accelerate the movement as it becomes more effective and more inclusive. This web is the refreshed and clarified lens through which we are viewing Pisces' Environmental Education grantmaking.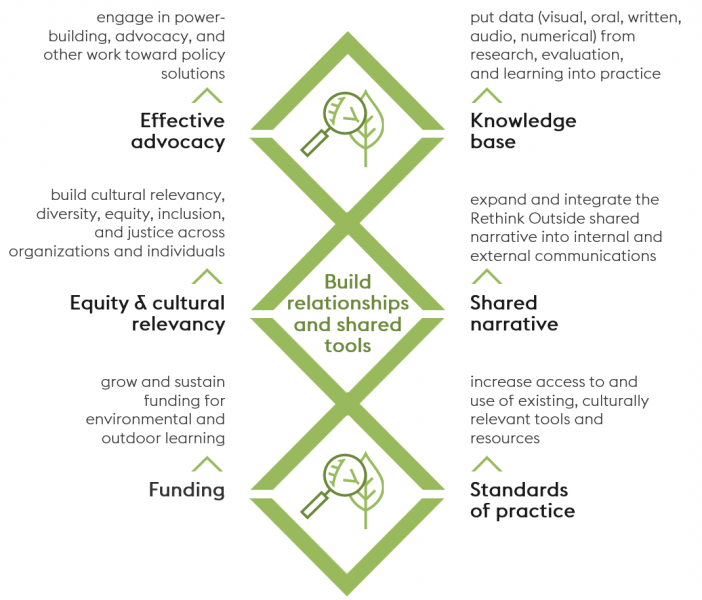 At its core, Pisces' vision to advance more quickly toward a world where people and nature thrive together remains strong and guiding. Young people are at the core of this work because they lay the groundwork for our future. Through environmental and outdoor learning, young people gain the environmental know-how they need to thrive in our rapidly changing world. Emphasizing the multiple learning pathways young people take—including hands-on climate science lessons in schools, community gardening, fishing with grandparents, and everywhere in between—is key. Through this, we'll see smarter decisions, stronger communities, and daily actions that improve our well-being and our planet.
As we move ahead, Pisces celebrates multiple pathways into the environmental and outdoor learning movement across lived experiences, race, socioeconomic upbringings, sectors, academic disciplines, and more. And so, we must continue to confront the fact that many kids today—especially kids of color—don't have consistent opportunities to experience environmental learning nor have welcoming, inclusive access to the outdoors. Now more than ever, there are many thought leaders and organizations working toward a future of healing, welcoming, and belonging. These leaders are finally getting the increased funding, visibility, and recognition they deserve. They're centering on a new narrative, inclusive of a broader set of lived experiences that are far more relevant to most young people today.
I seek to do this work with open eyes, heart, and mind—as do my colleagues and our Foundation team. We are inspired by the profound ideas, networks, and diligence our partners bring to advance that change. By sharing, not holding, space with Pisces' partners, we learn what is possible. We can take these learnings and help direct resources and privilege to support new, more equitable, environmental and outdoor learning experiences for everyone and reinforce the amazing work that already exists. We won't get there overnight, but I am more optimistic than ever about both the journey and the potential these types of learning experiences have to foster the environmental know-how that young people need to thrive in this rapidly changing world.