At the Pisces Foundation, a guiding principle that informs and helps shape our work is to engage with and support activists, advocates, and thinkers who are helping to lead the way forward. One thing we do to advance this goal is sponsor fellowships from time to time that give people in various roles, and at various inflection points in their careers, time to pursue projects important to them. These fellowships allow for strategic visioning space to reflect, dream, and collaborate with others. 
We're excited to introduce our newest fellows, Angela Mooney D'Arcy and Grace Anderson, with support for their fellowships provided in part by the William and Flora Hewlett Foundation. As they explain in the Q&A below, Angela and Grace are collaborating on a vision to create a dedicated resource space where leaders of color, who are presently and historically under-resourced, can have a safe environment to dream and ideate in service of environmental and justice work. 
This fellowship is one of a series of Pisces Foundation fellowships since 2016 supporting people working on a range of environmental issues: 
José González, an educator, environmentalist, and artist, who developed a comprehensive strategic approach for how best to be of, and in service to, the environmental and outdoor movement through healing severed connections. 
Katie Robinson, who played a key role in developing and launching an initiative that has now become Mosaic. Katie's fellowship was pivotal in setting up the field-led Governance Assembly and a co-generated approach to this national participatory grantmaking effort. 
Jason Morris who, prior to joining the Foundation, was a fellow doing strategic thinking on the ingredients needed to support durable, nation-wide impact and uptake of environmental and outdoor learning – what is today the focus of the Foundation's environmental education program.
In this blog, Angela and Grace share their motivation for a fellowship, the vision and design thinking they'll be engaging in, and what their hopes are for their work moving forward. We're pleased to be able to share their perspectives with you.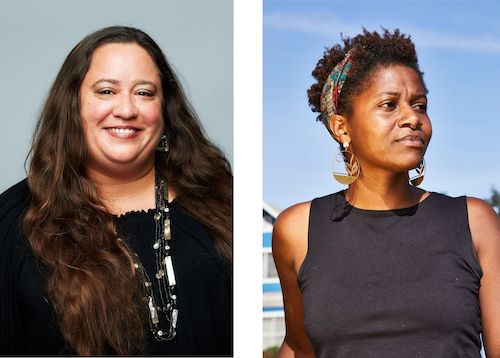 Tell us a bit about your backgrounds and your work in the environmental justice field. 
Angela: I'm Acjachemen. Our ancestral homeland is in what's now known as Orange County, California, and I live in the unceded Tongva homeland now known as Los Angeles. I think the reality for California Indigenous Peoples is really what informs all of the work that I do, and all of the work that I have been doing for the past 20 years plus.
I attended UCLA School of Law where I focused on critical race studies and federal Indian law. But I realized pretty quickly into the law school experience that the kind of paradigm shifts I thought were necessary to create a more just world were not the kinds of things that I could accomplish in a courtroom. After many years of reflection and conversations with my Elders and tribal community leaders, I founded Sacred Places Institute for Indigenous Peoples in 2012. Our mission is to build the capacity of Native Nations and Indigenous Peoples to protect sacred lands, waters, and cultures.
Grace: After graduating from Winston-Salem State University, a historically Black college in North Carolina, I packed up and moved to North Dakota where I was a park ranger. From there, I worked a steady outdoor education path and eventually landed at the National Outdoor Learning School (NOLS), an outdoor education school in Wyoming. During my time there I was able to witness and work with Expedition Denali – the first team of Black folks to attempt to summit Denali. The expedition opened my eyes to the long-standing history of Black folks in the outdoors. That ultimately got me interested in the barriers, misconceptions, and storytelling that is often not told about Black communities in the outdoor and environmental space.
One of the most affirming experiences I've had in my career was as the co-director of PGM ONE, a racial affinity space for folks of color who work in connection with the land. It's the largest gathering of Black, Indigenous and people of color in the country. It peaked my desire to focus on how to build the capacity of Black, Indigenous, and people of color individuals outside of their organizations and to create more affirming and celebratory spaces that centered us.
How did the idea for this fellowship come to be? 
Angela: Mainstream philanthropy, "big greens," and the conservation movement at large have historically under-resourced those who are most impacted by environmental injustice – and who consequently have the most experience, not just surviving, but thriving in spite of that.
I was coming to it from the lens of the burnout that comes from being the founder and executive director of one of a handful of Indigenous led-environmental justice organizations in the entire state of California. And out of those Indigenous-led environmental justice organizations in California, even fewer of them are actually run by California Native people.
Last year, the philanthropic world felt the need to do something in response to George Floyd and the continued subjugation of communities of color. But it was really disheartening that so many resources were being driven to mainstream, white-led environmental organizations, with very little going to BIPOC leaders. So I wanted to explore this question of what it would mean for BIPOC individuals to have the kinds of resources that have historically been denied to us, and have the space to step back and think and dream.
Grace: I was noticing so many Black people leaving organizations, myself included. Once you're outside of an organization you don't get resources directed your way – especially if you don't have the social capital or networks to tap into. I'm really interested in supporting the building of a fellowship that lifts up leaders of color as individuals and puts resources in the hands of those who know how to move us forward. I wanted to create something that gave people resources and time – beyond just survival – to take a step away from extraction and toxic organizations and have the resources to forward their own ideas and dreams.
What are you hoping to achieve with this fellowship? 
Angela: I'm so excited to have this conversation with Grace as Black and Indigenous folks, because I feel – especially as women in our communities – we are not typically resourced individually or able to have these conversations.
One thing that's really central to me to explore in this fellowship is land rematriation and identifying what lands and physical resources the philanthropic world has right now, and how might some of these place-based resources be shifted to support Black and Indigenous communities. The reality is that a lot of philanthropic dollars can be directly tied to the exploitation of Black and Indigenous people in particular. So what does that look like for BIPOC individuals to be able to explore that conversation in collaboration with one another.
Grace: I'm excited to learn with Angela, and I'm excited to be a shield and a truth teller with this fellowship. Largely, philanthropy is the redistribution of money and power that has been acquired by exploiting the labor, resources, and land of communities of color. The process of "redistributing" is notoriously inequitable and opaque. My hope is to access some of those resources to create a longstanding and well resourced fellowship that funds folks of color to rest, dream, create, ideate.
Can you both talk a bit more about the importance of centering the experiences and voices of Black, Indigenous, and leaders of color focused on working in connection with the land? 
Angela: When you look at the climate crisis in the United States it can sometimes seem hopeless. But when you expand the scope to think about the environment and climate from the perspective of Black and Indigenous communities thousands of years ago to now – that opens up what's possible.
To me, colonization is at its core a severing of relationships: severing relationships between people and the land, people and one another, people and culture, the list goes on. Decolonization becomes possible when we think about it as repairing relationships – particularly people's relationship to land.
That is the heart of why it's essential to fund more fellowships like this, specifically for communities of color – because we haven't had the opportunity and the freedom to spend the time and energy necessary to think and dream of what a better world looks like. Unless we're resourced and have the space and freedom to do so then those new possibilities aren't going to emerge. It really is about opening that doorway so that all of this amazingness and resilience can emerge and we can all benefit.
Grace: To add to that – isolation is a pervasive tool of white supremacy and capitalism in the environmental space and beyond. We're often told we are the "only ones" or too busy trying to survive to be able to look up and see each other. By centering and resourcing BIPOC communities, we are resisting that isolation and creating opportunities for our communities to come together. And when our communities come together we create room for innovative ideation.
What would you say to young leaders of color looking to have an impact on the fight for environmental justice? 
Angela: Because it is our communities that are most directly impacted by climate and environmental  injustice, whether or not to join the broader movement isn't a choice – we have to be in the fight. So what I would say to young people coming up is to understand and embrace your worth and the worth of your ancestors and communities. Live in the miraculousness that you exist in so you're able to engage in this work in a sustainable way.
On a more practical level, I would say make sure that you have your BIPOC communities around you as a support system. You need your community. You need people. Mostly I would just say – because I wish someone had said this to me 20 years ago – to think about celebrating my ancestors and the joy of it as much as I bemoan the crisis we're in.
Grace: Yeah, I wish I had someone to tell me to focus on the joy of libratory aspects of my existence earlier on. I think we're unfairly burdened and expected to bring others, specifically white folks, along. So I'm really moving in the direction of joy, love, and liberation for Black folks and away from educating people.
How can the environmental field and philanthropy generally better support leaders of color? 
Angela: It's really about moving more resources, more quickly and with less restriction to BIPOC individuals. The reality is that we cannot get to the changed world we want to see until the entities and individuals with money and power are actually willing to share some of that money and power.
We've been operating under a Western system for a long time. It's going to take a lot of resources and a lot of time to get things where they need to be. Foundations and environmental organizations need to get really comfortable with understanding that there are other systems and timelines and ways of being in this world that need to be supported and nurtured.
Let's think of things like poetry, music, or visual art. Every society in the world places value on that kind of creation because the act of creation and joy is something that transcends language. A moving poem changes the world more than a 500 page policy report. Yet BIPOC folks aren't resourced enough to have the time and space to think and dream together so that we can create what needs to be created to infuse the world with hope and bring about those changes.
Grace:  Likewise, I'm really interested in pushing foundations and people with power and money to move money with less restrictions and less questions asked. Figuring out ways to move money faster, with less strings attached, to individuals is key. I really want folks to focus on acquiring less and rethinking what it means to acquire so much wealth in our society.
What do you hope will result from this fellowship? 
Angela:  I think fundamentally we as humans are place-based people, even though the narrative of this  society is one that tries to tell us that we aren't. The reality is we're all place-based – whether it's your ancestral homelands, your neighborhood, your home, or your town. To really build upon and grow together, collectively in community, part of what's needed is actually physical space. And I think that's something that the philanthropic world often misses.
My dream out of this is that we have dedicated space for BIPOC individuals to retreat to that doesn't end with Grace and I. There needs to be some place that's safe and protected for our communities where people can come together and grow and dream. I would love to develop sustained funding so there can be a hundred more fellowships like Grace and I have for years to come.
I'd also love to see the philanthropic entities that help resource that space commit to rematriating an equal amount of land to whomever tribal nations' territory that place is in.
Grace: I hope that this is a blueprint for other foundations and people to understand that individual fellowships are needed and necessary and possible. We need a place to call home and a place to retreat. I think this process has been really big for me to know that we can ask for what we deserve. I would love to see funders step up and resource this space and have pools of resources that are distributed by and for people of color. I want this kind of funding to be the norm – not a one off. I want that type of long-term commitment from the philanthropic sector.
Is there anything else you'd like to touch on that you think is important to highlight? 
Angela: The expertise and the beauty and the creative and intellectual genius is there, and it's ripe and it's ready to be in the world. It just needs to be supported. We hope philanthropy will really look at this fellowship as an inspiration and as a starting point of what's possible and what should be amplified and funded for the next 100 years.