The Pisces Foundation is launching a $1 million investment to expand the use of integrated water management (IWM) in seven urban watersheds across the U.S.  Integrated water management, which looks at all sources of water holistically, can create breakthroughs for urban areas to meet critical needs for people and the ecosystem, such as ensuring clean and reliable water supplies and building healthy and resilient ecosystems. The Pisces Foundation is seeking to make IWM the standard practice of urban watersheds across the U.S., which we believe will not only protect water resources more comprehensively and cost-effectively, but also make urban watersheds more climate resilient, make cities more attractive and appealing places to live, and build public support for water resource protection by demonstrating how these approaches can generate multiple environmental, public health, economic, and aesthetic benefits for the public.
This sounds like a tall order.  But efforts to approach water in a more comprehensive and integrated way can be a powerful remedy for the water challenges encountered by many urban areas across the country.  For example, in many places in the West, such as Los Angeles, urban stormwater is discharged to rivers and the ocean, often with little or no treatment to remove pollution picked up from the urban landscape.  The polluted runoff can have a big impact on coastal waters, where pathogens, toxic metals, and other pollutants are often discharged in high levels, impacting recreation and the environment.  Meanwhile, many cities battling this pollution problem often do not have sufficient local water supplies, and import water from distant sources, which can also cause a range of impacts.  The integrated solution?  Capturing stormwater before it fouls local waters and reusing it can reduce pollution and enhance water supply—potentially in a major way.  This a good example of the sort of integrated water management we believe can make a big difference.
To decide where to invest, Pisces Foundation looked nationwide for urban watersheds that are 1) on the verge of making significant decisions about their water future 2) have drivers for major water-related investments 3) have visionary leadership 4) have substantial public support for a smart water future, and 5) where Pisces Foundation grantees could make a real difference.  Working alongside four national environmental groups (American Rivers, The Nature Conservancy, Trust for Public Land, and The Conservation Fund) with expertise in IWM, the Pisces Foundation identified seven urban watersheds as stand outs for our investment over the next three to five years:  Tucson, Raleigh/Durham, Detroit, Providence, New Orleans, Atlanta, and Los Angeles.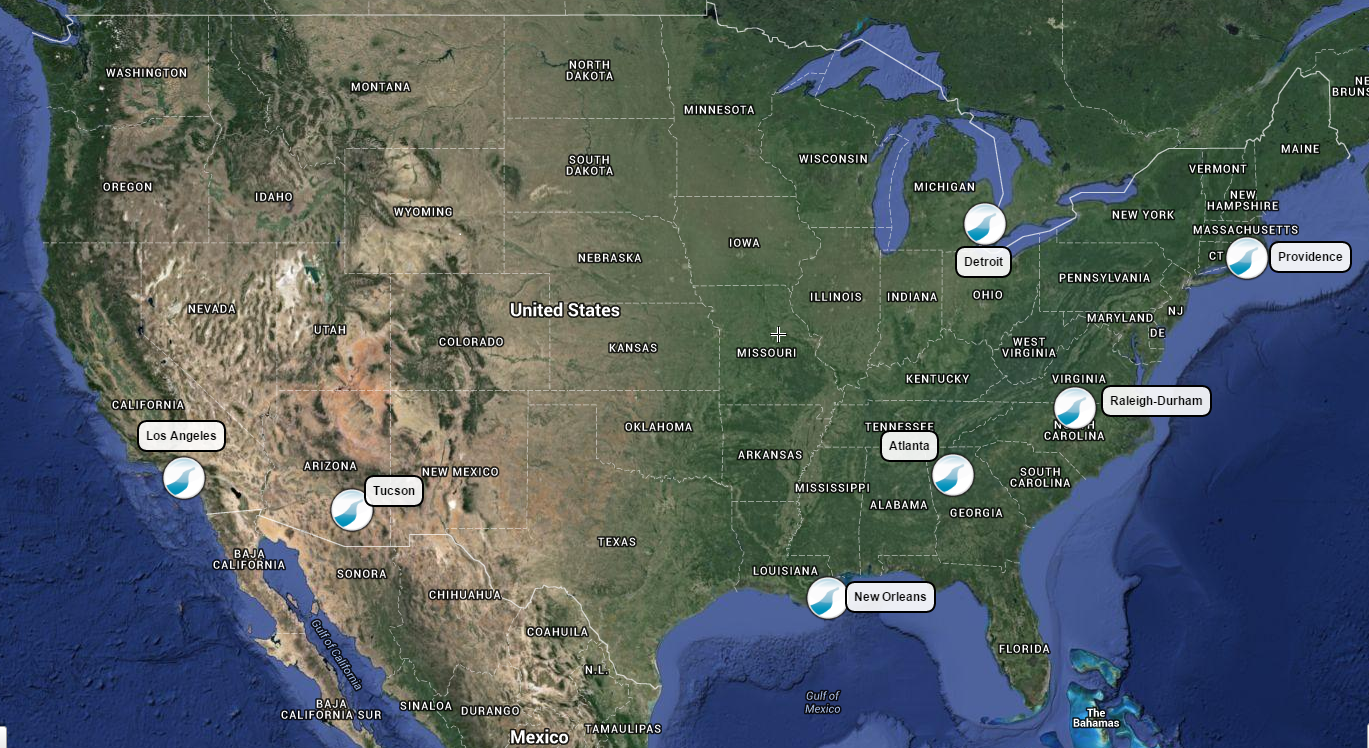 The good news is that these seven communities are not the only cities turning to integrated water solutions.  (For example, Philadelphia's "Green City, Clean Waters" program aims to solve water pollution problems by greening the City over 25-years. More on this ambitious effort here.) But we believe these cities are poised to make a big difference and, we hope, in various ways can serve as inspiration for others.
In each of the seven communities where we are supporting integrated water approaches, Pisces will support national and local groups working together in partnership with utilities, city officials, and the public to make smart water decisions that will serve these communities well in years to come.  For example, Tucson, a desert city, is aiming to live within its current water budget while planning to have enough water left over to restore critical ecosystems. On the other hand, New Orleans, will continue to address poverty, public health, and water vulnerability through a resilient planning approach to existing wastewater, stormwater and floodwater systems.  Raleigh-Durham aims to safeguard drinking water supply protection by fostering emerging partnerships between downstream cities and upstream rural communities.
While integrated approaches can be tailored, as the examples above illustrate, to local needs and opportunities, IWM has great potential for peer-to-peer learning across organizational and city boundaries. The Pisces Foundation will support an in-person convening to ensure that best practices have replicability elsewhere while common challenges are shared and addressed together.  We hope the work of our grantees and their partners in each of these cities across the country will contribute not only to water progress in each place, but to a growing movement to look at water holistically, unleashing powerful new solutions.