The Pisces Foundation is proud to announce the organizations funded through our 2022 Urban Water Request for Proposals (RFP). As we work toward a world where people and nature thrive together, these organizations and their partners are helping to improve their communities in Houston, Miami, New Orleans, San Antonio, Portland, and San Diego and catalyze a transformation to more integrated and equitable water management ("One Water").
Celebrating our 2022 Urban Water RFP Grantees
In Fall 2022, the Pisces Foundation's Water program released an RFP open to any interested organization to support efforts that will achieve durable transformation to One Water. This RFP followed in the footsteps of a previous water RFP in 2018, which enabled organizations—both those we knew and those we did not—to propose excellent projects and advance equitable approaches to grantmaking.
In response to the 2022 RFP, 91 organizations from 33 states and Washington, D.C. submitted concept notes that ranged from regional water policy to innovative stormwater funding and community-centered water planning. The proposals identified tremendous need and opportunity to advance One Water throughout the country. After much deliberation, which included advice and insight from a panel of expert advisors (see below), our team is delighted to announce $780,000 in investments to eight organizations and their projects, including two grants supported collaboratively with the Cynthia and George Mitchell Foundation.
The 2022 Urban Water RFP grant recipients include:
Centro por la Justicia – Southwest Workers Union*, advancing community-based One Water solutions in San Antonio through an interagency working group to further water sustainability, access, and pollution remediation.
Groundwork San Diego – Chollas Creek, developing a community engagement framework to drive equitable implementation of green stormwater infrastructure in San Diego.
Miami Waterkeeper, working to advance a One Water Action Plan in Miami-Dade County that will improve stormwater management, coordination, and water sustainability across the county's 34 municipal governments.
National Wildlife Federation & Bayou City Waterkeeper*, collaborating with stakeholders and the city of Houston to advance a resilient and adaptable water future through Houston's first One Water Plan.
Verde & Oregon Water Futures, working with leaders in Portland and across the state of Oregon to ensure strong tribal consultation in water and land use planning and better link water and land use planning agencies.
The Water Collaborative of Greater New Orleans, connecting leaders across New Orleans to secure an equitable, long-term source of funding for stormwater management.
*Grants supported collaboratively with the Cynthia and George Mitchell Foundation
The Pisces Foundation's Water Vision
The Pisces Foundation's urban water strategy seeks to support partners who are driving a transition to water management approaches that are integrated, equitable, and achieve multiple objectives for communities and nature. As part of our systems approach to achieving One Water, the Water program supports a diverse, wide-reaching network of organizations working at various levels of policy and practice, including national and regional networks, national NGOs and capacity building partners, and place-based partners working in specific cities.
The 2022 Urban Water RFP sought to fund a specific set of work within this holistic system, namely investing in organizations in U.S. cities that are working toward a particular One Water policy and are on the cusp of securing substantive change via integrated policy or regulation, innovative funding, and/or inclusive governance and planning. By investing in organizations working at the local level, we believe that we will see both dramatic improvement for individual communities and a nationwide transformation in approaches to water management.
Since 2014, we have invested over $6 million directly in organizations driving urban One Water policies and programs in 21 cities across the country (mapped below). Our newest grantees selected through the 2022 Urban Water RFP are advancing exceptional work in 6 cities and bringing urban water management closer to One Water as the standard approach.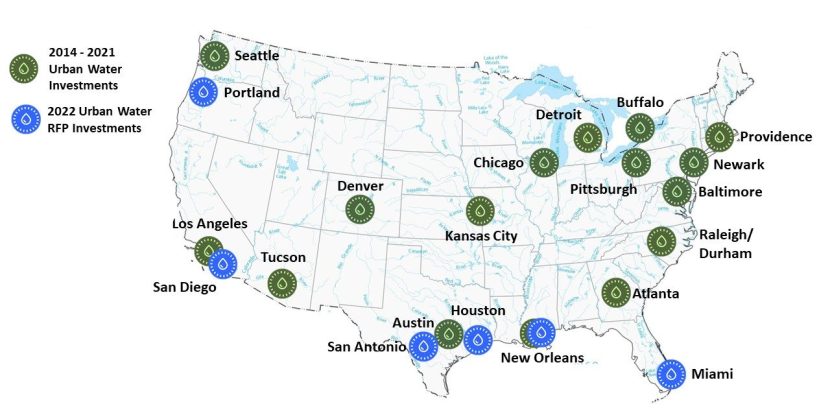 Our Commitment to More Inclusive Grantmaking
The Pisces Foundation promotes greater transparency and access to funding by supporting open calls for proposals and participatory grantmaking initiatives. These efforts seek to ensure that organizations and projects not known to the Foundation team can apply for funding, and that grant decisions are informed by the experience and expertise of a larger, diverse set of people. This is the fourth open call for proposals the Foundation has supported in our water and environmental education programs. Including this RFP, the Foundation has provided $5.7 million to 31 organizations selected through open application opportunities.
As part of this RFP grantmaking process, the Water team consulted with an advisory council of diverse leaders from the field to gain input from the movement, reduce bias, and check assumptions. The advisory council included Steve Fleischli (NRDC), Mami Hara (US Water Alliance), Monica Lewis-Patrick (We the People of Detroit), and Yasmin Zaerpoor (PolicyLink). While the Pisces Water team made the final grant recommendations to our Board, we benefitted tremendously from the council's thoughtful recommendations and insights.
Next Steps
We are proud to support organizations across the country working to ensure their communities have access to clean, sufficient water. We know that these leaders share many common obstacles and opportunities in their work. That is why the Pisces Foundation is committing $150,000 to support this cohort of One Water advocates through pooled resources for convenings or other activities and through stipends for previous Pisces RFP grantee recipients. By resourcing this cohort, we believe that organizations driving local One Water policy will have greater capacity to build strong relationships, share learnings, and mobilize additional support for One Water policy and programs nationwide. Our grantee partners will collectively define the cohort's goals and determine opportunities for engagement, networking, and support.