Each year, the U.S. wastes a staggering 63 million tons of food. If all of this wasted food was grown in one place, this mega-farm would cover over three-quarters of the state of California. In addition to losing $218 billion spent on growing, processing, transporting, and disposing of this food that is never eaten, the 52.4 million tons of waste that is sent to landfill release copious amounts of methane – a climate super pollutant – as the organic matter decomposes. These emissions pose a serious threat to public health as methane is a contributor to smog – a dangerous air pollutant that harms the respiratory system and leads to increased rates of asthma and other lung diseases.
At Pisces, we know that reducing super pollutants is essential to preserving the health of our planet and our communities. That's why we are always in search of new and exciting solutions like those developed by ReFED, a multi-stakeholder nonprofit committed to reducing food waste in the U.S. Today, ReFED released two new tools to provide stakeholders with the information they need to take action.
The Food Waste Innovator Database compiles over 400 innovators across the U.S., broken down by location, business structure, and solution focus area, who are working to develop and grow solutions across the food waste sector – from preventing food loss at the farm level, to recovering surplus food to feed the hungry, to increasing food recycling infrastructure to divert waste from going to landfill.
ReFED's Roadmap to Reduce Food Waste found that an $18 billion investment can achieve a 20 percent reduction in food waste in the U.S. That investment will yield $100 billion in economic benefits over a decade and create 15,000 jobs. This database will allow the private sector, government, foundations, and investors to identify companies and initiatives they want to invest in or partner with to scale food waste solutions.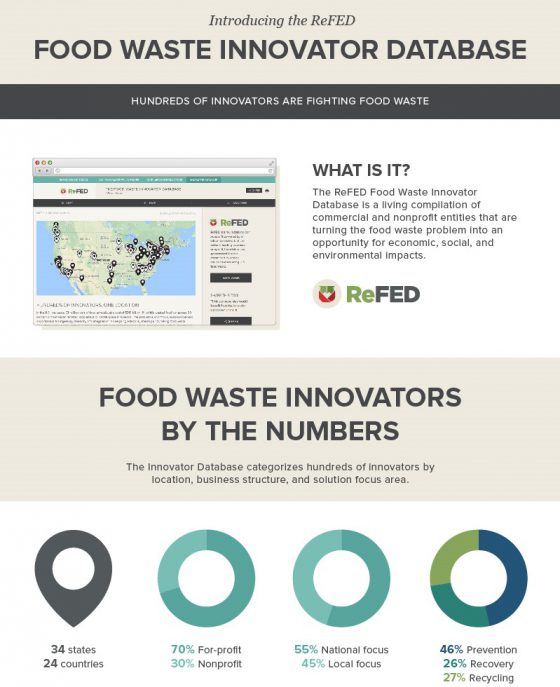 The Food Waste Policy Finder provides a comprehensive overview of existing federal and state policies related to food waste, highlighting best-practice legislation. This tool will provide a central resource for food businesses and food recovery organizations to understand and navigate the laws on liability protection, date labeling, tax incentives, animal feed, and waste bans. Additionally, the tool will educate policymakers on measures that are already working to reduce food waste and can be replicated across the country.
For an inside look at the Innovator Database and Food Waste Policy Finder and to hear insights from the experts who developed the tools, join ReFED for a webinar on April 24th at 11 a.m. PT / 2 p.m. ET.
We are proud to partner with ReFED to mainstream and scale innovative new solutions to reduce food waste that will provide immediate and long-term benefits to our climate, economy, and well-being.