I'm excited to be at the Children & Nature Network Leadership Summit with more than 300 leaders in our field who have come to work together and dig deep to develop strategies for lasting change. Combining our strengths, diverse lived experiences, and accumulated wisdom is critical to our success. At the Pisces Foundation, working and learning together is in our DNA and we're honored to sponsor this Summit that helps advance toward a world where people and nature can thrive together.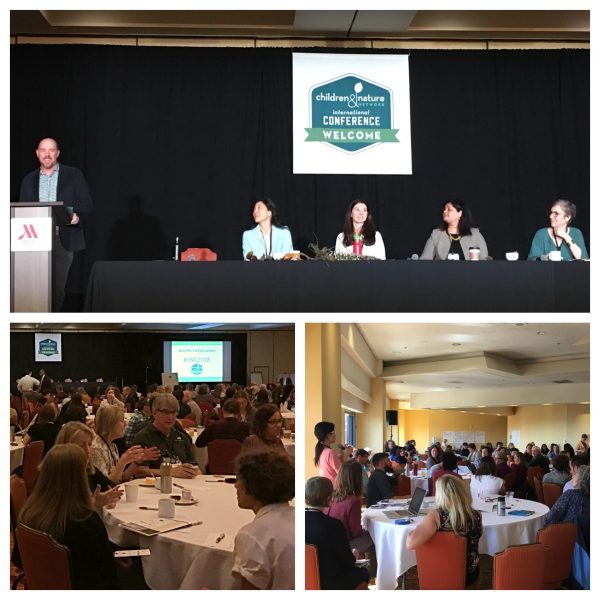 As a result of our combined efforts, we're seeing more and more schools, states, and communities tapping into the many benefits that come from environmental education and making it part of every child's experience. Over the years, the research base to support these many benefits has grown tremendously, yet it hasn't been as accessible as it needs to be in order to drive continuous improvement in program design and delivery, as well as to help make the case to more schools, states, and communities that environmental education is essential for all children—until now.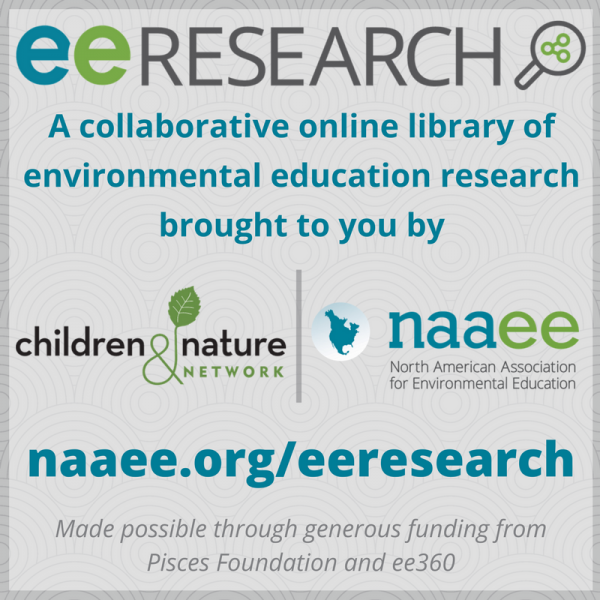 The North American Association for Environmental Education (NAAEE) and the Children & Nature Network have recently created a collaborative research library, eeRESEARCH and we couldn't be more excited! The two organizations have teamed up to provide free access to the combined research collections of both organizations in one easy-to-use portal. With more than 1,000 peer-reviewed articles, summaries, and syntheses, eeRESEARCH represents the largest single collections in the world of peer-reviewed literature focused on environmental education and connecting people to nature.
At the Summit and over the past weeks, I had the chance to talk with several colleagues, as thrilled as we are about the new library, and ask them how this resource will impact their work. They said:
"Environmental educators have been resource and research-starved for decades. That make it almost impossible to improve—when we don't have evidence for what works under what conditions. But that is changing! More research is available now that shines a light on how to make our memorable outdoor experiences into equally powerful science learning experiences. The eeRESEARCH database is the pipeline bringing nourishment to curriculum developers, program leaders, and field instructors."—Craig Strang, Associate Director of Lawrence Hall of Science and Principal Investigator of BEETLES
"eeRESEARCH promises to be invaluable for teaching, presentations, and grant proposals. Having a launching pad to the world of research that is easy to navigate and includes already distilled synopses and summaries will greatly enhance the accessibility of this rich body of work for practitioners, policymakers, funders—and even researchers! I'm eager to further explore the phenomenal wealth of resources that NAAEE and C&NN have coalesced."—Nicole Ardoin, Associate Professor at Stanford University's Graduate School of Education & the Woods Institute for the Environment
"The new eeRESEARCH library is an invaluable tool. I'm grateful to have a one-stop shop to shed light on effective strategies in our field and to help me integrate relevant research into evaluation and program design."—Kirk Anne Taylor, Director of ChangeScale
"Accessible, short summaries of high-quality research in the environment education field are a huge benefit to students of all ages. These summaries bridge the gap between research and practice by decoding the literature and improving access to cutting-edge research. In a university setting, summaries such as these can help students learn how to read, annotate, and use academic articles in literature reviews, coursework, and research. These summaries are both an entrance point to research, and an invaluable tool for teaching about the importance of literature."— Charlotte Clark, Assistant Professor of the Practice of Sustainability, Nicholas School of the Environment
As for me, a one-stop shop for EE research will strengthen my work. I'll have quick access to relevant, high-quality data and thinking from the leaders in our field to the emerging new thinkers and strategists. Collaborations like this one by NAAEE and the Children & Nature Network is one way that we'll equip all kids with environmental know-how empowering them to make smarter decisions that lead to stronger communities and a greener planet.