Our People
The team at Pisces Foundation has a diverse range of experience and expertise. We value the opportunity to work in concert with our collaborators and grantees.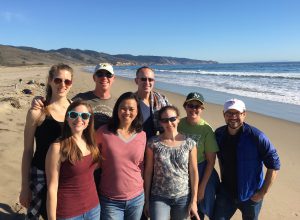 Bob Fisher, Trustee
Bob Fisher is co-founder and trustee of the Pisces Foundation in San Francisco. Bob is involved in all facets of the Foundation's strategic development and environmental programs, with a focus on water resources. In 2010, Bob co-founded, with the S.D. Bechtel, Jr. Foundation, the California Water Foundation, whose mission is to ensure integrated and sustainable improvements to California's water management. In 2008, Bob led the strategic development of a new, national water program at a major national environmental advocacy organization, the Natural Resources Defense Council.
Bob has spent his career in the retail business and working for environmental causes. From 1980 to 1999, he served in various operating roles at Gap Inc. Bob recently completed over two decades of service on the Board of Trustees of the Natural Resources Defense Council, where his roles included serving as Vice Chairman. He currently is a member of the Board of Trustees of Conservation International, where he serves on the Executive Committee. In 2009, Bob was appointed by Governor Arnold Schwarzenegger to the Strategic Growth Council, which focuses on advancing sustainable communities that promote equity, strengthen the economy and protect the environment for the state of California. Bob is the President of the Board of the San Francisco Museum of Modern Art.
Born and raised in San Francisco, Bob attended Princeton University, where he received his BA in English Literature, and Stanford University Graduate School of Business, where he received an MBA.
Randi Fisher, Trustee
Randi Fisher is a philanthropist and social entrepreneur focused on the nexus of the environment, health and sustainability. She is co-founder and trustee of the Pisces Foundation in San Francisco.
The Foundation's vision, "people and nature thriving together," reflects Randi's belief that awareness of the interconnectedness between people and nature is critical to our collective future. Randi is involved in the full range of the Foundation's work with an emphasis on its environmental literacy program, which seeks to prepare the next generation to make sound, sustainable decisions about health and the environment.
In addition to her work at the Foundation, Randi serves in leadership positions at a range of nonprofit organizations focused on environmental stewardship and human well-being. Currently, she is a trustee of the Golden Gate National Parks Conservancy, where she helped found the Institute at the Golden Gate and is a leader in the Tunnel Top Park Campaign – a new 13 acre parkland in the Presidio which encompasses a learning landscape for kids and families. Randi provides strategic advice to the FOR-SITE Foundation dedicated to the idea that art can inspire fresh thinking and important dialog about the environment. She is a founding board member of Education Outside, a San Francisco nonprofit committed to advancing science outdoors, and she is also a co-founder and advisory council member of Ten Strands, which connects education, the environment, and community in California.
Previously, Randi played a central role in founding Blue Sky Funders Forum, designed to build the environmental education field; provided critical early support to ChangeScale, a collaborative of leading Bay Area science and education organizations; and served as a trustee of the California Academy of Sciences, where the Foundation's support is catalyzing a global environmental literacy initiative. Earlier in her career, Randi played a key role in developing the Bay Area Discovery Museum, a children's museum providing arts, technology, and environmental education programs, and encouraged youth development through her involvement with Summer Search and Breakthrough Collaborative.
Randi is the honored recipient of the 2015 Excellence in Philanthropy award from the North American Association for Environmental Education and the 2015 Outstanding Philanthropy award from the Association of Fundraising Professionals, along with her husband and Pisces Foundation trustee, Bob.
Randi graduated from the University of Colorado, Boulder in 1979 with a Bachelor of Art degree in Fine Arts and Psychology. In 1985, she received a Masters' degree in Arts Administration from New York University.
David Beckman, President
David Beckman is President of the Pisces Foundation. In that role, David is responsible for the Foundation's strategic direction, grantmaking, and overall management.
David previously was director of the national water program at the Natural Resources Defense Council, one the nation's largest environmental advocacy organizations, where he was also a senior attorney. David co-founded and managed the launch of the water program in 2008. Under his leadership the water program became one of NRDC's six national strategic priorities; substantially expanded its staff; and tripled its financial support. Over seventeen years at NRDC David litigated a number of precedent-setting water quality cases; drafted legislation that led to implementation of groundwater monitoring and water quality programs in California; and researched and wrote reports on a variety of environmental policy matters. David began his career at Heller Ehrman White and McAuliffe in San Francisco.
David has received numerous awards for his work, including an "Attorney of the Year" commendation for environmental law from California Lawyer Magazine. For five years he served also as a Distinguished Visiting Scholar at California State University, teaching environmental policy and law. David has lectured on environmental issues in Brazil, Poland, and throughout the U.S.
David is a 1988 graduate of the University of California, Berkeley, and a 1991 graduate of Harvard Law School.
Carol Ting, Chief Operating Officer
Carol Ting is Chief Operating Officer of the Pisces Foundation. As COO, Carol is responsible for translating vision and strategy into effective operations and management.
Carol most recently served as Chief Operating Officer of the Stuart Foundation, which focuses on improving life outcomes of youth through education. Under Carol's leadership, the foundation updated and improved its operations. Previously, Carol served at the Gordon and Betty Moore Foundation, leading its program finance team and providing grant portfolio analysis to support enterprise-wide decisions across its environment, science and patient care programs. Her non-profit career began at the Nonprofit Finance Fund in San Francisco and New York City, where she provided technical assistance and loan underwriting to small and mid-sized nonprofits. Carol also has experience working in the financial services industry in real estate asset management, credit analysis, corporate human resources and operations.
Carol graduated Phi Beta Kappa from Wellesley College with a B.A. in economics and psychology. She earned a M.A. in Public and Private Management from the Yale School of Management. Carol lives in San Carlos with her husband and two children.
Anna Leff-Kich, Executive Assistant to the President and Chief Operating Officer
Anna is the Executive Assistant at the Pisces Foundation supporting the Office of the President. Anna joins Pisces after helping grow the Schoenberg Family Law Group, a boutique family law firm where she was the Firm Manager. Anna managed the scheduling for the managing partner as well as several other attorneys, and oversaw all administrative duties including human resources, billing, external relations, and multiple office relocations. Anna also worked as the Budget Manager at Humboldt State University's MultiCultural Center and as a Program Assistant the Boys and Girls Club in Eureka. Anna holds a B.A. in Theatre Arts and Design from the University of California in Santa Cruz.
Nancy Stoner, Water Program Director and Senior Fellow
Nancy is the Director of the Water Program and a senior fellow at the Pisces Foundation. Nancy is based in Washington, D.C. and regularly spends time at the Foundation's office in San Francisco.
Nancy most recently served as Acting Assistant Administrator for U.S. EPA's Office of Water. As a top EPA policymaker on water over the last three years, Nancy was responsible for protecting surface water resources and ensuring the safety of tap water across the United States. She is exceptionally knowledgeable about water and has visited every corner of the country to see new technology, cutting-edge programs, and innovative partnerships first hand. Prior to serving in the EPA, Nancy was the Co-Director of the NRDC Water Program, promoting sound water resource management nationally and in specific watersheds. Nancy also worked as Director of the Office of Planning and Policy Analysis in the Office of Enforcement and Compliance Assurance at the U.S. Environmental Protection Agency and as an attorney for the U.S. Department of Justice in Washington, D.C. Nancy is a graduate of Yale Law School and the University of Virginia.
Jason Morris, Environmental Education Senior Program Officer
Jason is a Senior Program Officer at the Pisces Foundation, focusing on Environmental Education. In this role, Jason leads the Foundation's grantmaking in environmental education and implements strategies to shape environmental education initiatives nationally. Jason was most recently Interim President and CEO at NatureBridge, which provides hands-on environmental education programs for children and teens. In that role, and previously as Executive Vice President of the organization, Jason oversaw all aspects of NatureBridge's residential programs in six national parks across the country. Jason's career in the environmental education field has taken him from the Navajo Reservation in Utah, to the San Francisco Bay, to national parks across the country, where he lead the design and delivery of high quality, research-based programs serving hundreds of thousands of young people. Over the course of his career, Jason has partnered with researchers at Stanford University to connect research with practice. He also co-founded ChangeScale, a collaborative of leading academics, funders, practitioners, and thought leaders working together to build and strengthen the field of environmental education.
Jason holds a M.A. in Nonprofit Administration from the University of San Francisco and a B.A. in Anthropology from Fort Lewis College. Jason lives in Berkeley with his wife and daughter; he enjoys fly-fishing, hiking, and camping by any wild river with native trout species.
Jennifer Kurz, Climate & Energy Program Officer
Jennifer is a program officer at the Pisces Foundation focusing on Climate and Energy issues.
Jennifer comes to Pisces from the Bill & Melinda Gates Foundation where she was the Special Assistant to the President for Global Policy and Advocacy, helping to establish a new division and its strategy. While at the Gates Foundation, she also managed a portfolio of U.S.-based advocacy grantees.
Prior to that, Jennifer was the Outreach Director at the U.S. Climate Action Network, the primary U.S. network of organizations focused on climate. She led the network's engagement of its members and coordination with allies in the faith, labor, business and national security communities during the 2009 -2010 push for federal legislation and an international climate treaty.
She has over a decade of experience working in Washington, DC for a variety of nonprofits, including the Brookings Institution, Sierra Club and Oxfam America. She has a Masters in Public Policy in international development and environmental policy from the Harvard Kennedy School and a BA in economics and politics from Pomona College.
Ida Posner, Program Associate
Ida Posner is a program associate at the Pisces Foundation supporting program officers, focusing on Climate & Energy issues and grants management.Prior to joining the Foundation, Ida was awarded a fellowship with Princeton in Africa and spent fifteen months developing microgrid renewable energy systems at Access Energy, a startup renewable energy company based in Kisumu, Kenya. Ida graduated from Princeton University in 2012 with a BSE in Civil and Environmental Engineering and certificates in African Studies and Sustainable Energy.
Tom Owens, Program Associate
Tom is a program associate at the Pisces Foundation, focusing on Water and Environmental Education issues.Tom comes to Pisces from the Yale School of Forestry and Environmental Studies, where he received a Master of Environmental Management degree. While at Yale, Tom conducted research on clean energy development markets in Brazil and served as a teaching assistant for coursework in chemistry, geology, biology, and environmental campaigns. Tom has nearly a decade of experience in the environmental field and has worked for a number of organizations including Energy Action Coalition, Avaaz.org, Repower America, and Chesapeake Climate Action Network. Through the Energy Action Coalition, he was featured in the 2007 Green Issue of Vanity Fair. He is one of the many proud co-founders of PowerShift, a conference that has trained over 40,000 young people to be environmental change agents in their communities.Tom graduated with honors from Virginia Tech with a degree in biochemistry. Growing up in the resource-rich Appalachian Mountains, he is committed to ensuring that all have access to a clean and safe environment.
Kaylee Mulligan, Program Associate
Kaylee Mulligan is a program associate at the Pisces Foundation, focusing on Environmental Education issues. Kaylee comes to Pisces from NatureBridge, a non-profit organization that operates environmental science education programs for youth in national parks. As Summer Programs Manager, she oversaw the sales & marketing, operations, and education aspects of ten weeks of summer programming. Prior to that, Kaylee served as Director of the Coastal Center at Milford Point, one of Connecticut Audubon Society's four regional nature centers. She managed the daily operations of the nature center while strengthening development efforts and increasing the number of students served by its environmental education programs. She also has previous on-the-ground experience as an educator for Sierra Outdoor School. Kaylee has a Masters of Environmental Management from the Yale School of Forestry and Environmental Studies and a B.A. in Environmental Studies from Yale University.
Nicholas Conti, Intern
Nicholas is an intern at the Pisces Foundation, supporting foundation operations. Nicholas holds a B.A. in Urban and Environmental Policy with a Minor in Biology from Occidental College where he lead a number of student sustainability initiatives, including the College's bike share program. Nicholas has since worked for a number of organizations committed to promoting more sustainable systems. He also works as an office assistant at an urban design consultancy.
Jillian McClain, Intern
Jillian is an intern at the Pisces Foundation supporting all three of the Foundation's programs from her office in Washington, DC. Jillian holds a B.S. in Economics from the University of Massachusetts and is currently pursuing a Master's degree in Public Policy at American University. Jillian's internship is through the Center for Environmental Policy's Environmental Leadership and Governance Internship Program.
For more about the purpose of the Pisces Foundation: Our Purpose.